Biography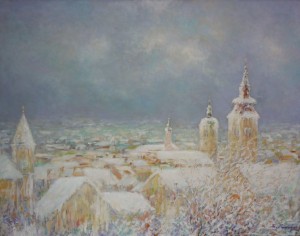 KRUNOSLAV MARTINOVIĆ, born in Križevci 1939.
Initial artistic education gained in the General Grammar School, through painting courses, advice offered by professional artists and by frequenting visits numerous European galleries, museums and exhibits. Even his early works pointed to a personal touch which drew inspiration from impressionists. A particular love for the colour and the light, momentary impression and atmospheric excitement would become trademark for this painter.
He is primarily known for his impressionist landscapes (oil on canvas), faces and nudes of women, and motifs of historical Croatian cities – Križevci, Varaždin and Zagreb (Grič). He paints using watercolours and gouache, makes drawings and caricatures.
Behind him is over forty individual exhibits and over 350 joint exhibits, across Croatia, the Europe, Canada and the US.
He received numerous acknowledgments and awards for his artistic expression, among which the award given to him by the European Academy of Science, Literature and Art (Academy of European Intellectuals) from Napoli named "Grand Prix Mediterranee Etoiies d'Europe" for accomplishments in the field of impressionism and avant-garde painting. He has also been proclaimed Accademico di Merito for his "high ethical and cultural contribution, being the basis of the benefit to the spiritual unity of the peoples of Europe".
He is a member of the Croatian Association of Artists (HDLU). His first written monography, named "Martinović", was published in 1990. (by Ml. Pavković), and the second in 2002 (Juraj Baldani: "Kruno Martinović – Slikarstvo"). His paintings are mainstays in numerous galleries and private collections in Croatia, Napoli, Bologna, Milan, Vienna, Munich, Cologne, Elst, London, Montreal, etc.
Krunoslav Martinović received his diploma from the Faculty of Medicine in Zagreb in 1964; he is a specialist of internal medicine since 1973. He completed his post-graduate degree in 1974 (cardiovascular diseases), and received his MA in 1982. Following his calling, he spent many years working in the Internal Medicine Department of the Varaždin General Hospital.